Harry Kane: Man City make £100m transfer bid for Tottenham striker | Football News | Sky Sports
Manchester City have made a £100m bid for Tottenham striker Harry Kane.
City are open to including players in addition to the cash offer, but Tottenham are expected to reject the bid.
Sky Sports News exclusively reported last month that Kane had told Spurs he wanted to leave this summer with Man City, Manchester United and Chelsea interested.
The England captain is said to be fully focused on the Euros, with a decision on his club future not expected before the conclusion of the tournament.
Kane is valued at upwards of £120m and Tottenham are keen to keep him despite the 27-year-old believing he has a gentleman's agreement with Daniel Levy.
Levy, who has appointed Juventus' former football officer Fabio Paratici as the club's new managing director of football, said earlier this month he sympathises with Kane's frustrations about the lack of silverware at Spurs, but hinted a deal could be difficult to do.
"All I will say is his frustrations in not winning are shared by me and all the fans and players. We all want to win," Levy told the club's official website.
"One of the items that Fabio will have to deal with when he comes in is which players are going to be retained, which will be asked to look for other clubs.
"There is a market out there. What we want and what other clubs want is not always possible to achieve. We will do whatever is right for the club."
Levy confirmed Spurs will be active in the transfer market this summer, but was keen to restrict expectations about how much money they could spend.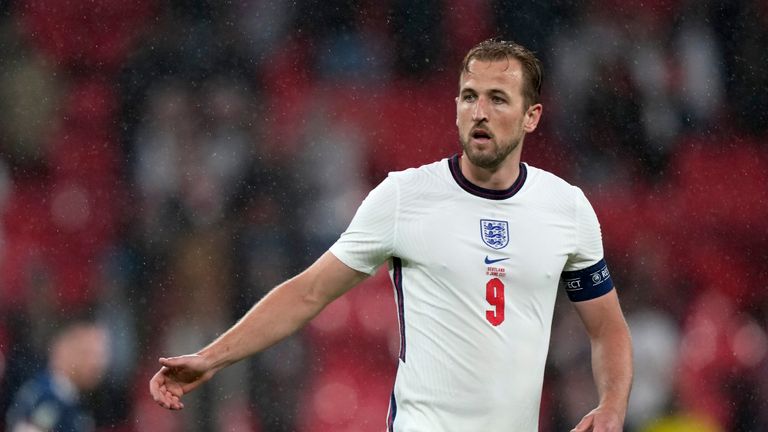 Man City chairman Khaldoon Al Mubarak, meanwhile, said after last month's Champions League final that the club will be "competitive and aggressive" this summer, and are aiming to strengthen by bringing "quality to the squad in a couple of key positions".
The Premier League champions' priority is to replace Sergio Aguero, with Kane being considered along with Erling Haaland, Romelu Lukaku and Lautaro Martinez.
Man City begin their Premier League title defence by travelling to Tottenham on August 15, live on Sky Sports.
Kane insists that neither a lack of fitness nor speculation over his future at Tottenham have been the reasons for his disappointing start to Euro 2020.
Kane was substituted in England's opening win over Croatia and their underwhelming 0-0 draw with Scotland following below-par performances in both games.
His displays have come as a surprise given he enjoyed an impressive season with Spurs, topping the Premier League charts for goals and assists, despite his club's struggles.
And while he did sustain a couple of ankle injuries during the campaign, he returned from the most recent of those nearly two months ago, and was a regular for Spurs until the end of the season.
Kane won the Golden Boot at the 2018 World Cup – a factor that has only added to expectations on him at Euro 2020 – and although he admits he became fatigued in Russia three years ago, he says that is not the problem this time around.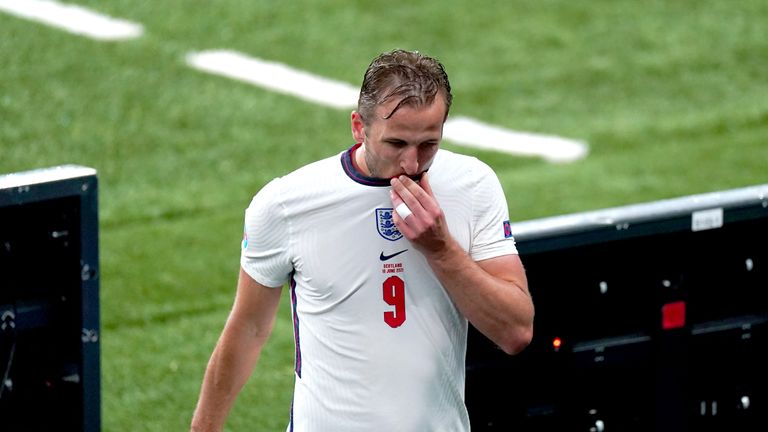 "Gareth [Southgate] is within his rights to make the changes he thinks are best for the team," Kane told The Guardian when asked for his reaction to being replaced in both of England's games so far.
"What we've learned over past tournaments is about trying to peak at the right time. The best time to be peaking is in the knockout stages and hopefully kick on from there.
"Maybe in Russia there were times, towards the quarter and semi-final, when I wasn't as sharp as I wanted to be. In the end we didn't get to where we wanted to go, maybe partly for that reason.
"It's about managing the squad, making sure everyone is feeling as fit and sharp as possible. In my case, it was a tough couple of games and it's about making sure I'm right for the rest of them.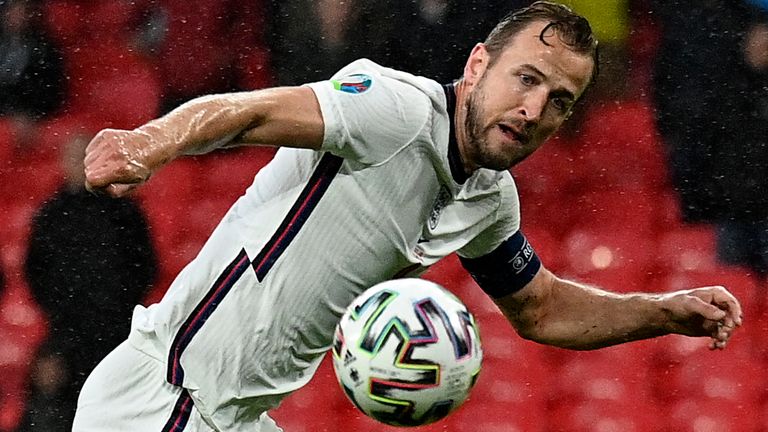 "I didn't have any issues. I didn't feel physically I wasn't up to it. I felt going into those games as good as I've felt all season, if I'm honest."
Although Kane was one of the standout players in the Premier League during the 2020/21 season, Spurs endured a difficult campaign, finishing seventh in the table, without a trophy or a manager, having sacked Jose Mourinho in April.
The club was also rocked by the news that Kane had told them he wanted to leave this summer due to their failure to regularly compete for – and win – trophies.
Manchester City, Manchester United and Chelsea are all understood to be keen on signing the striker but, despite his future promising to be one of the main plotlines of this summer's transfer window, Kane says it is not affecting his international performances.
"Absolutely not," he insisted. "All my focus is on how I can help this team and how we can be successful in this tournament.
"I understand from a media point of view there is speculation, but I am fully focused on the job here."
Redknapp: Levy must make right decisions
Daniel Levy faces the most important summer of his tenure as Tottenham chairman, according to Sky Sports' Jamie Redknapp.
"This is the biggest summer of Daniel Levy's tenure as the chairman," Redknapp said in May. "They have got no manager, their star player wants to leave – he has to get this right. He has made some massive decisions to make.
"It's not a foregone conclusion that he (Kane) is going to go. Daniel Levy is a very difficult man to negotiate with. Whoever wants to buy him will have to pay top dollar. It may be a case of a loan swap with some players, that might be a way to entice Levy to come to the table.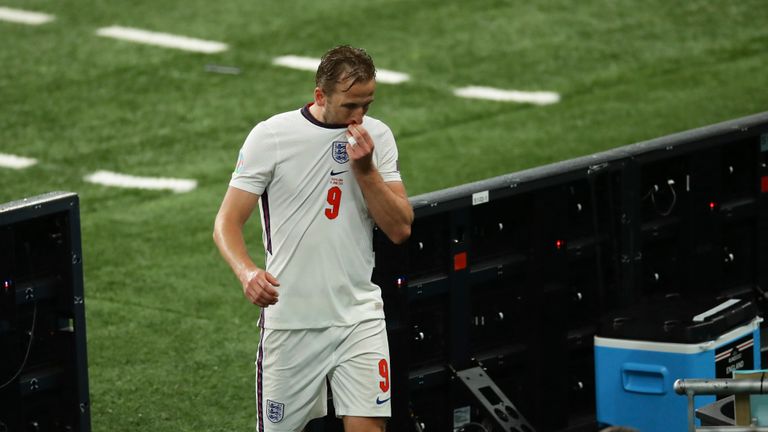 "He's one of the best strikers in world football and they're a valuable commodity. Levy is going to want £100m+ and that takes out a lot of teams.
"Chelsea, Man City and Man Utd are probably the three. I'd love to see my old team Liverpool go for him – whether they've got the money, I don't know.
"He's a Tottenham legend – maybe not if he goes to Chelsea because that won't go down well with the fans – but I can picture him in that Man City team, getting chance after chance after chance, winning trophies and working with one of the great managers ever to work in football. I think it would be a good move for him."
Souness: It's now or never for Kane
Sky Sports' Graeme Souness says that if Kane is ever going to leave Spurs, it has to be this summer.
"There are two prizes out there: Haaland and Kane," Souness said in May.
"With Haaland, there is still a question mark, but that is getting smaller with every week. With Harry, there are no question marks.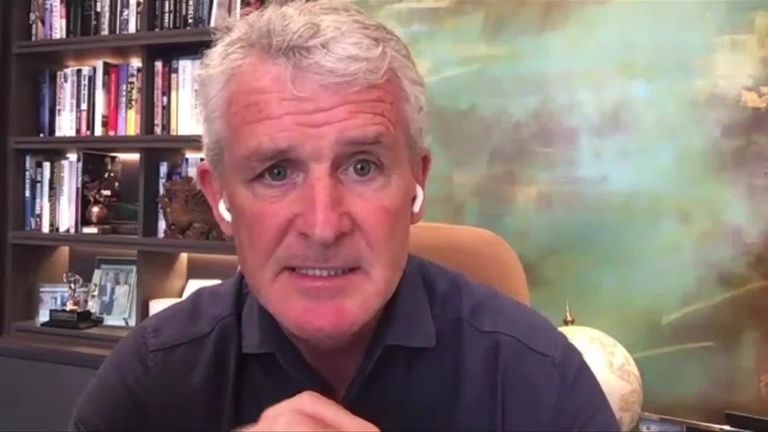 "But I think for Harry Kane, it is this year or never.
"For Spurs to become what Harry would want isn't going to happen during his career. It's not going to happen during his time at the football club. He hasn't got six, seven years to wait.
"I don't think that [£200m] would be outrageous. I don't think Pep is being entirely honest when he says they won't go big this year. I think they will."
Ibrahima Konate: Liverpool sign centre-back from RB Leipzig | Football News | Sky Sports
Liverpool have signed centre-back Ibrahima Konate from RB Leipzig after agreeing to pay his £36m release clause.
Konate, 22, made 21 appearances for Leipzig this season including eight Bundesliga starts as the club finished second, 13 points behind champions Bayern Munich.
He will begin a long-term contract from July 1, subject to international clearance and a successful work permit application process.
"I'm really happy to be joining such a massive club like Liverpool," Konate said.
"It's a really exciting moment for me and my family and I am really looking forward to meeting my new team-mates, the staff and getting started on this new chapter."
The France U21 international's arrival strengthens Jurgen Klopp's defensive options, with Virgil van Dijk, Joe Gomez and Joel Matip all hoping to return for the start of next season after missing the majority of the 2020-21 campaign through injury.
The injuries saw Fabinho and Jordan Henderson at times deployed at centre-back, while Nathaniel Phillips and Rhys Williams were the defensive pairing at the tail-end of the season as Liverpool secured a top-four place and Champions League football next year.
Liverpool had signed Ben Davies permanently and Ozan Kabak on loan from Schalke as defensive cover in January.
Davies is yet to make his Liverpool debut, he was an unused substitute eight times, while Kabak made 13 appearances but looks set to return to Germany despite the club having the option to buy the 21-year-old this summer.
Konate is currently with France's U21 squad for the UEFA European Championships.
He added: "Right now, my focus is on the U21 European Championships with France, but after this competition I know I will be joining one of the best teams in the world and that gives me a great feeling.
"I have worked very hard for many years to get to this point, but I would like to say a big thank you to everyone at RB Leipzig and all the people I worked with there – the coaches, my team-mates, the staff and especially the fans.
"Your support helped me grow up during my time there and become not only a better player, but a better man and I will always be grateful for it."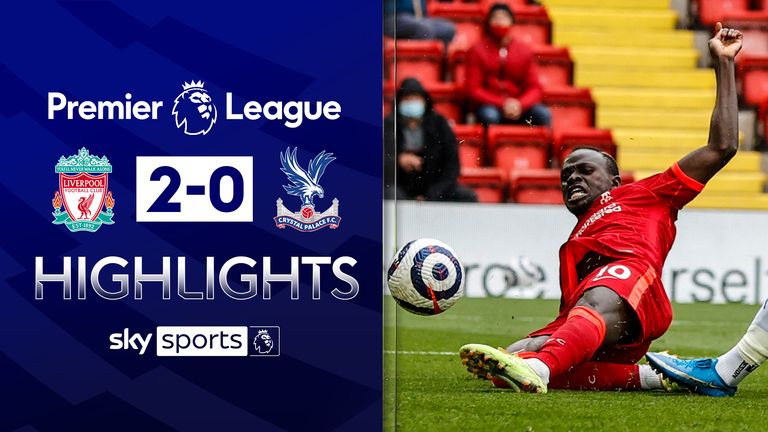 At Leipzig, Bayern-bound Dayot Upamecano and Willi Orban played most of the season at centre-back, while Konate suffered an ankle injury in December which kept him out for two months.
Upon his return, Konate – whose contract was due to expire in June 2023 – remained an unused substitute in both of Leipzig's Champions League last-16 matches against Liverpool.
It was no secret Liverpool would be signing a new centre-back this summer after the defensive injury crisis which derailed their Premier League title defence last season.
Long-term knee injuries to first-choice central defenders Van Dijk and Gomez in October and November 2020 respectively meant Klopp was forced to use an incredible 16 different centre-back parings in the previous top-flight campaign.
Elsewhere, despite the club offering Adrian a new deal, the Spaniard may return home this summer, meaning Klopp could be looking for a new back-up goalkeeper to Alisson if, as expected, promising youngster Caoimhin Kelleher is sent out on loan next season.
Meanwhile, Gini Wijnaldum's expected departure on a free to either Barcelona, Paris Saint-Germain or Bayern Munich leaves a sizeable hole in midfield, one that may reportedly be filled by Brighton's Yves Bissouma and then there is the issue of Roberto Firmino's diminishing attacking returns.
Pep Guardiola: Man City boss vows to be 'cold' with Champions League final selection amid Sergio Aguero dilemma | Football News | Sky Sports
Manchester City boss Pep Guardiola says he will be "cold" when it comes to selecting his starting line-up for the Champions League final against Chelsea, with no room for sentiment amid club legend Sergio Aguero's departure.
City have 12 days until they play Chelsea in Porto in their first European final for more than five decades and face Brighton and Everton in that period with the Premier League title already secured.
City's all-time leading goalscorer Aguero has been ruled out of the Brighton fixture on Tuesday due to a leg injury picked up in the 4-2 win over Newcastle last week.
The Argentine has announced he will leave the Etihad at the end of the season and could conceivably have played his last game for the club with only three games remaining.

We're Not Really Here: Man City



Friday 21st May 6:30pm

Guardiola says he will not select Aguero for the final against Chelsea in Porto purely on the basis of sentiment.
"Right now (Sergio Aguero) is injured. If he was fit I would say I will be cold," he responded when asked about a potential fairytale farewell for the striker.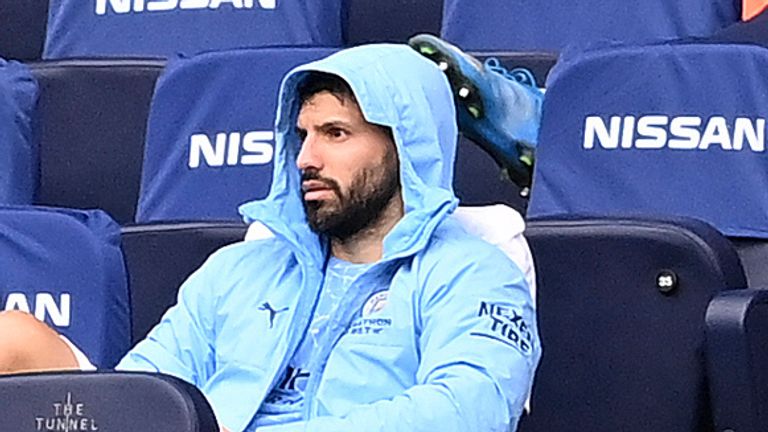 "I have to take the decision which is the best to win the game. If Sergio is fit and I believe he can help us, he will play.
"If he can help us to score, he will play but it is the final of the Champions League, I have to make the decision that wins the game."
Guardiola admits that his players have been especially responsive and nice to him in the build-up to the final on May 29 because they are all vying to get into his starting line-up.
"They listen a little bit more. Seriously, they are not stupid. They want to play so they will be so nice to me," he revealed.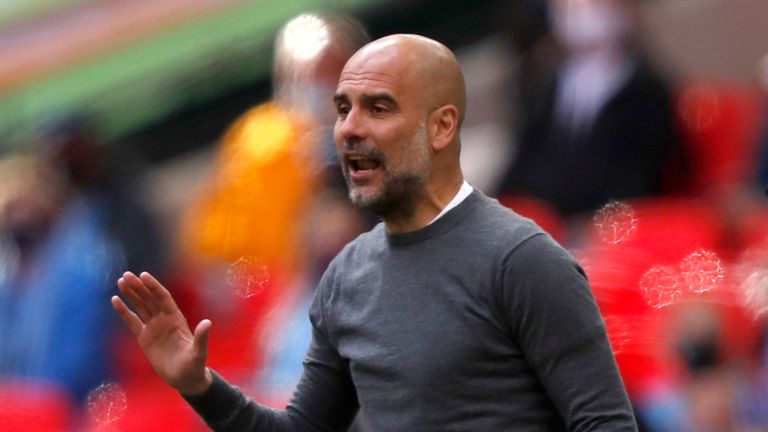 "Once I make the selection they will be who they are, grumpy and upset with me like normal."
The City boss is no stranger to selection dilemmas ahead of Champions League finals having led Barcelona to victory in Rome in 2009 and at Wembley in 2011.
"It has always been difficult. But previously I remember the starting eleven at Barcelona was so clear I would say.
"Here I rotate a lot and everyone can play. Still right now I am not clear about the way we are going to play and who we are going to play. I have to take a look in the next 10 days and after I will take a decision.
"That's why the relationship between the players and the manager has to be distant. You cannot be close because you make decisions which (can impact) careers and sometimes I have to be unfair to them.
"They are lucky that they have a manager who rotates a lot, in the last few months I have changed every game six or seven players. In this situation I would say I have been generous with them.
"They want to play every game especially the most important ones. It's tough but it is what it is."
Odion Ighalo: My 'dream' Manchester United move, Ole Gunnar Solskjaer's man-management and why Paul Pogba needs to stay at Old Trafford | Football News | Sky Sports
Odion Ighalo's loan move to Manchester United from Chinese outfit Shanghai Shenhua in January 2020 is still considered one of the unlikeliest transfers of recent windows.
Having left English football in 2017 following a three-year spell at Watford where he had helped the club to Premier League promotion, Ighalo would not have been a name many would have considered at the time to solve United's striker shortage.
However, despite the move to Old Trafford being a brief one, leaving in January 2021 to join Saudi Arabian side Al-Shabab, it will be one the 31-year-old will never forget.
Here, Ighalo, who scored five goals in 23 appearances for United across all competitions, speaks exclusively to Sky Sports News' Dharmesh Sheth about his 'dream' move, what it was like playing under Ole Gunnar Solskjaer, and why Paul Pogba must stay at the club…
DS: It's really good to see you, Odion. First of all, how's it going at Al-Shabab?
OI: I'm enjoying it, that's the most important thing – the fans love me and I am enjoying my time in a different country, a different league and culture. We're top of the league at the moment so hopefully we can keep going and win it.
Could you have stayed at Manchester United after January?
There wasn't much possibility because I wanted more playing time. At my age, I want to play and not just sit on the bench and not have any minutes.
I didn't just want to be there picking up a salary – I wanted to be involved so I said to my agent that if an offer comes in, I will look at it and see what's best for me, which is what I did.
I'm so happy that my path crossed with Manchester United – it's the club I love with all my heart and for all my life so playing for them was a big privilege that I do not take for granted.
No matter the circumstances that led me to leave, I will always be grateful to the coach, my team-mates, the fans, and everyone around Manchester United.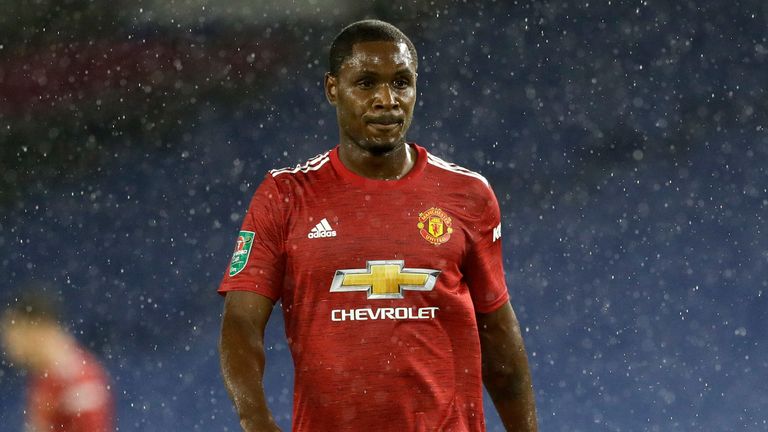 Were there any other offers other than Al-Shabab – any from the Premier League?
Yeah, there was the possibility of West Ham and West Brom to stay in the Premier League, which I thought about.
But after being at Manchester United, the biggest club in England if not the world, what else could I possibly do in the Premier League?
I had good offers to stay in England, but I just didn't think I could stay after achieving my dream of playing for the club I had supported since I was young.
I came all the way from China because it was Manchester United when I had already rejected other offers because United has always been my dream.
There were big rumours about a move to Tottenham before joining United. Were they true?
That was close – my agent called me and told me they had offered to match whatever I was earning but once I heard Manchester United were interested, there was no turning back.
I couldn't think about anything else other than making the Manchester United deal work. I was going to have to take a pay cut but I didn't care, I just wanted the deal to happen.
I just wanted to play for Manchester United. It's my dream club and it was always going to be a privilege for me to play at Old Trafford.
I'm just so grateful to God that it happened. Every day I wake up and I know that I am an ex-Manchester United player. It is something that I will never take for granted.

Sunday 18th April 3:30pm


Kick off 4:00pm

You're also the first Nigerian to play for Manchester United as well…
I'm very proud, because playing for Manchester United has raised my profile and people are now talking about me more.
Going back to Nigeria, people still want Manchester United jerseys today, even though I am not playing for Manchester United anymore!
Sometimes I have to order some shirts from Manchester to give to people over there – that's how big and how privileged I am to play for such a great club.
Being the first Nigerian to play for Manchester United is great. If I keep talking about it, then I will get emotional, I'm just so happy.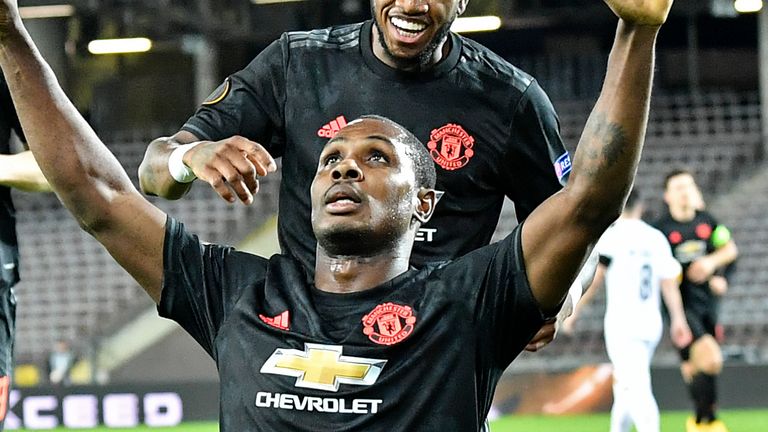 When you reflect on your year at Manchester United, what would you say was your best moment?
Absolutely everything! Just waking up every morning and going into training at Carrington was a thing of joy.
Meeting the lads, laughing, talking, going inside the dressing room for training and games… every moment is one I am going to cherish.
But probably the greatest moment was when I scored my first goal at Old Trafford in front of the fans.
Playing for the club, scoring my first goal, and scoring at Old Trafford – all my dreams have come true.
I used to pay money to watch Manchester United on TV and I still sometimes sit down and just watch my goals and some of the videos from the dressing room and all the laughing. It just keeps me going and always makes me happy.
Despite all that, your chances in a Man Utd shirt were limited. Do you feel you got the chances you deserved?
After my initial loan was extended, I did not play much which was perhaps a bit unfair but as I said, I am always grateful for the opportunity.
When I joined, I always knew I wouldn't be playing every game because I was signing as a back-up striker so I knew playing time was going to be limited.
There were certain games where I thought I would play but that's the decision of the coach and I am not holding anything against anyone.
I am just grateful to Ole (Gunnar Solskjaer), the fans, my team-mates, and everyone around the club for making me feel at home and I thank God that I played for my dream club and scored goals at Old Trafford.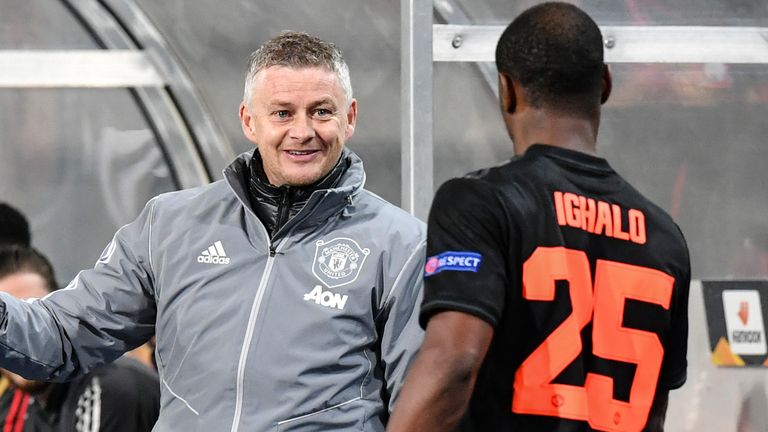 You mention Ole – give us an insight into his best qualities as a manager…
He knows how to manage the boys and talks to you, especially when you are not playing.
He's a good guy, a calm guy, and I never saw him get angry – perhaps during a game when we were losing but the day after that it was totally forgotten because the next game was always more important than the last one.
I have massive respect and time for him and thanks to him, I had the opportunity to play for Manchester United. Without him, that would not have been possible, so I am always grateful to him, no matter what.
So from what you are saying, it's his man-management skills that shone above anything else while you were there?
He's an intelligent coach. Tactically he's good but with a team like Manchester United, a big team with a lot of good players, everyone wants to play.
So sometimes it's difficult for the coach but he understands that and when you have a coach who can manage that, then it is really good.
It's been a very strange and unpredictable season with the pandemic. Manchester City are clear at the top but lost at the weekend. Is the title race still on?
Well, there's six or seven more games to go. It's difficult as I can't see City losing three games from six before the end of the season. It's going to be tough, but I pray a miracle can happen and Manchester United can win the League.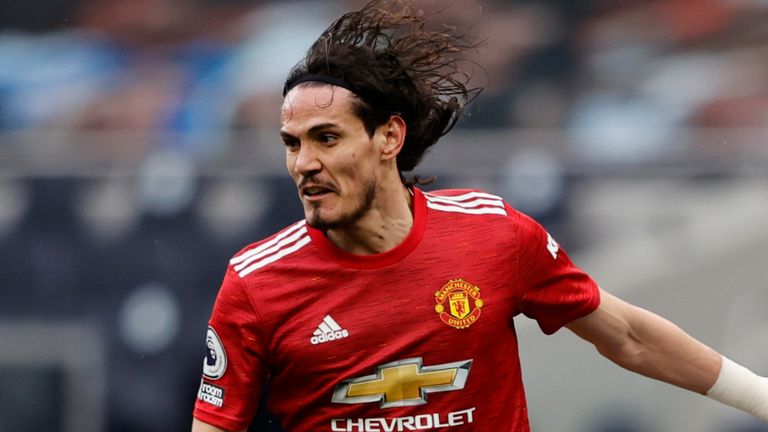 What do you make of Edinson Cavani's situation and him considering leaving Manchester United in the summer. Can you understand it when you love the club so much?
Every player has a different ambition, different needs, and needs to decide what they have to do. He's a good player and a good striker, there's no doubt about that and if the opportunity comes up to go somewhere else, then that's fine.
But for me – this is the team I have supported from being a child so I would always take the option of staying.
Whatever decision he makes though, I wish him all the best and good luck to him.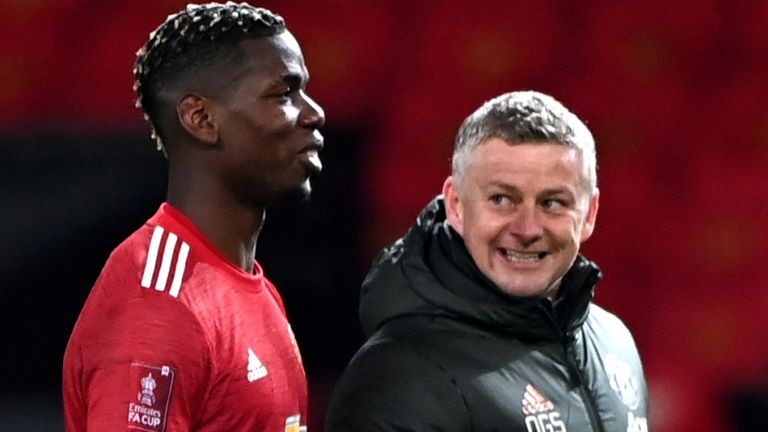 Paul Pogba gets talked about so much when he plays, whether he plays well or not. You've seen him up close – how good is he and how important is it that Manchester United keep him long-term?
He's one of the best players I've played with and one of the best players at Manchester United.
Apart from playing on the pitch, he's a good guy in the dressing room, a funny guy, he's always happy.
The only time he isn't happy is when he's not playing and I can understand that – everyone wants to play.
If Manchester United have the opportunity to keep him on a new, longer deal, they should because he is so influential.
Sometimes he doesn't have the best of games but that's normal, you can't be 100% in every game but when he turns up, like he did yesterday against Tottenham, he is exceptional.
Another player Manchester United have, who's currently doing well on loan at West Ham, is Jesse Lingard. You've played alongside him. Are you surprised at how well he is doing there?
Not at all because he works so hard in training and when he was given the opportunity to play for Manchester United, he did so well.
But when you play for a team like Manchester United, there's a pressure to win every game. Manchester United is all about winning, winning, winning, and sometimes that pressure kicks in.
West Ham is not as big as Manchester United and he's there on loan so he's more free to express himself. There's not as much pressure or weight on him to do well and he is doing what we know he can do and we are seeing the best of him.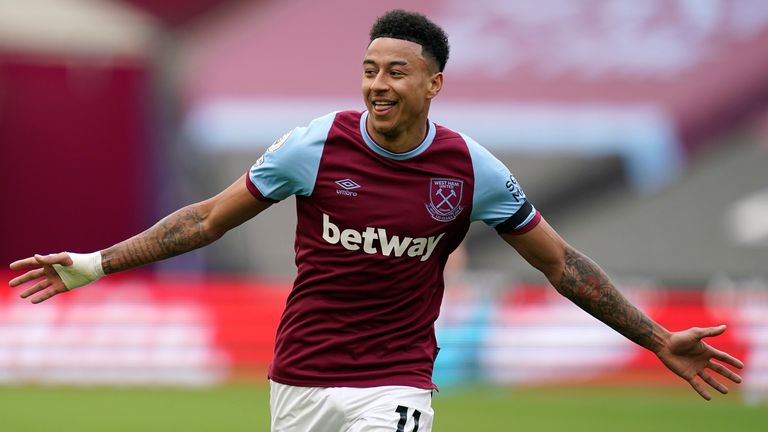 Do you still think he has a future at Old Trafford then?
Of course, but I don't think he'd want to return to Manchester United to sit on the bench because he is playing regularly at West Ham United – week in, week out.
But if he comes back with the confidence he has now, then it can only be a good thing for Manchester United.
Personally, I don't see him coming back – I can see his loan being extended or West Ham buying him.
So what does the future hold for you now – are they any other leagues or countries you'd like to play and challenge yourself in?
I've played in six or seven different countries now and I enjoy my football, so who knows the next destination! I'm not afraid to go to a new country, a new league, a new culture, and learn a new language. I'm ready for whatever opportunity.
Have you thought about life after football too?
I'd love to still be involved in football, maybe an agent or a coach but let's see what happens.